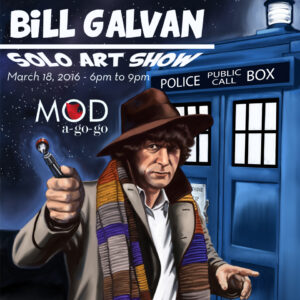 For our March 2016 Gallery Stroll, Mod a-go-go is excited to feature the solo art works of local artist, Bill Galvan.  Bring the family and join us for the opening reception, meet the artist, and enjoy a free evening of art.
Bill has been a comic book fan since he was 7 years old, and has been drawing comics ever since. After graduating high school, he attended  Southern Utah University, working as an editorial cartoonist and layout designer for the school newspaper. In 1996 he graduated with a Bachelors degree in Art/Illustration. In 2003, Bill co-created The Scrapyard Detectives, an all ages comic book series for The Diversity Foundation.
In 2006, Bill was hired by Archie Comics as a freelance penciler, and has also drawn for Marvel Comics and Bongo Comics.  In 2009 he collaborated with writer Batton Lash on the critically acclaimed mini-series Archie: Freshman Year, which chronicled Archie's first year in high school. This was followed by Archie: Freshman Year- Book 2 and The Archies & Josie and the Pussycats graphic novel.
Bill's favorite subjects to draw and paint are characters from pop culture, such as Superman, Batman, Star Trek, Universal Studios Monsters, Doctor Who, Halloween and Jughead (pretty much anything he used to watch back in the 80s).
Date: Friday, March 18th
Time: 6:00-9:00pm
Location: Mod a-go-go, 242 E. South Temple, Salt Lake City, UT